Tina Fey

in

David Meister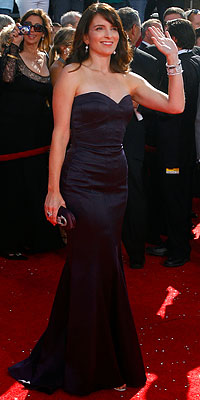 She looked gorgeous in her fitted David Meister gown. I think she played it a bit safe with the color and silhouette, but I guess you don't want to look foolish on your victory day. I also like that she kind of kept her "Tina Fey look."
Debra Messing

in

Monique Lhuillier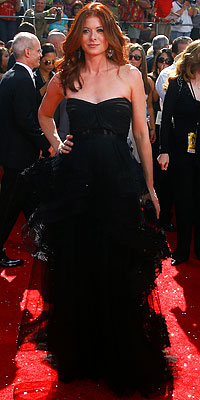 Okay, so maybe her whole look wasn't that exciting, but maybe I'm just biased because she's one of my favorite actors. Still, I think she looks great and she kept it classic. You can never go wrong with classic. Good one, Grace!
Cynthia Nixon

in

Calvin Klein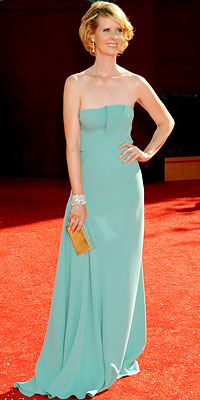 Although I do like her hair red, she does manage to pull off her look. I absolutely love the simplicity of her whole look because a lot of jewelry can make you look gaudy, which isn't a good thing.I also love the color of her dress.

Mary Louise Parker

in

Roberto Cavalli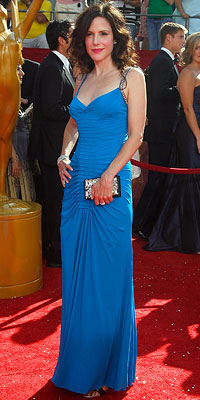 Okay, I'm totally biased because she is also one of my favorite actresses. Then again, unlike Debra Messing, she at least took a risk. This blue is very hard to wear, especially on the red carpet. She could've turned out looking like a bad 80s prom queen, but she managed to pull it off. Yay, Nancy Botwin.


This dress might have less oomph on the red carpet than on the runway, but it'd still be a lot more interesting than a lot of the other dresses on the red carpet. While the silhouette may not be that unique, the different shades of green make up for it. (Kathy Griffin, I love you, but you should've worn this instead of your probably purposely hideous dress.)


Halston
Even though this dress looks incredibly simple, it is very versatile. (I love Halston.) It can be worn in a formal or casual setting. You can even use the sash in many different ways. Also, here's your chance to wear a lot of jewelry and not look gaudy.

Elie Saab
I like this Elie Saab dress because it's one of his more interesting pieces. Elie Saab designs a lot of gorgeous dresses, but they kind of look or less the same. This dress, however, is like a piece of art because of all the geometric shapes. (Mondrian?)

John Galliano
I think John Galliano is very talented, but I'm not sure his designs fit everyone's taste because he takes fashion to the extreme. I tried looking for one of his more wearable designs and this what I found. Some of the younger actresses should've worn something like this because short dresses will enhance their youth. This dress is reminiscent of a 20s flapper, but if you want to modernize it, you can change up the hair or something.

L 'Wren Scott
I usually don't find L'Wren Scott's designs interesting enough to say anything, but her design aesthetic is very red carpet appropriate. So here's a dress pretty much anyone can wear and look great in. The design is very old Hollywood and the color may be good luck for the nominee, not to mention, she'll have a twin when she goes on stage to accept her award.
Courtesy of People, Style.com